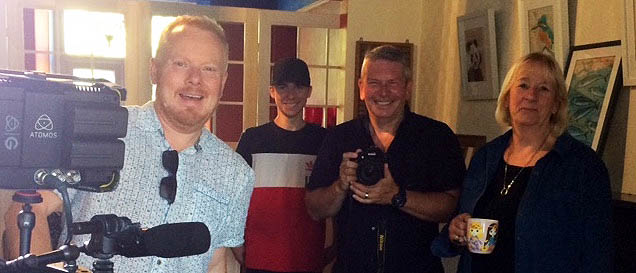 It all began with an email from Jane Blanchard at the end of June 2017, wondering if I would be interested in working with her on a tourism project for #EnglishRiviera and #SeafoodCoast. She had been researching possible local artists, had found my website, loved my story and my illustrations, in particular, the maps and fish... exactly what they needed!
I would be filmed working in the studio and walking on the beach, being inspired by the fabulous coastline. So flattered to be asked, little old me, but equally as terrified, as anyone would be to have a camera crew in their home! Cue furious studio tidy up, made even more frantic by a phone call saying they were bringing it forward by a day, as the weather looked promising... eek.
Wednesday arrived with absolutely glorious sunshine (they obviously have superior weather forecasting skills) and then they were here!
By this time I was a nervous wreck... but Jane and the crew from Sound View Media assured me it was completely normal, and after calming mugs of tea, it began. Firstly, still photography in the studio, me trying to look artistic and all, at the easel. Then some actual video of me colouring in, close-ups of materials and, no pressure, stamping the words on a crab illustration (they left the camera rolling for that bit!). Some voice recording followed, which I'm sure came out as a load of blather, several blank moments, but hope they managed to get something useful? Then I walked down to the nearest beach at Goodrington with Badger, where we met up with the crew again, and down onto the rock pools for more stills and sketching shots, and live action strolling along with the dog. Not sure what the locals made of it all, this film crew following me down the beach and back! To be fair, the weather was the best ever, the blue cloudless sky, the sparkling sea dotted with a brightly coloured group of kayaks in the waves, it couldn't have been more perfect.
They have taken all the film and voice over and gone back to put it all together into a short film, hopefully entice artists and food lovers to choose Torbay as a holiday destination. Other films for the project include wild swimmers, fishermen, restaurants, chefs...
And that, ladies and gentlemen, was my 15 seconds of fame. Looking forward to seeing the finished film in the Autumn, and maybe sharing it on my page.
Thank you to Jane Blanchard, Gareth and the crew at Sound View Media Ltd and Photographer Tom. You were all fab!